Edwards Choose Cole Library, Where They Met, for Estate Gift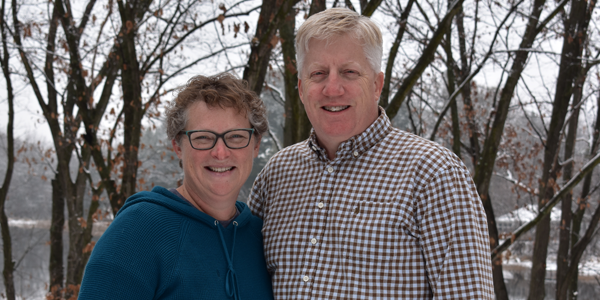 As a Cornell student Dave Edwards '87 studied in Cole Library, often until closing time. Val Stahl Edwards '87 worked at the circulation desk. When Val had closing duties, her roommate Robin Dye Wall '87 came from Dows Hall to escort her home. Eventually Dave joined in and they all would walk to Dows where watching the David Letterman show became a routine.
These walks and watching the Letterman show ultimately led to their marriage in 1988. Their life together came full circle recently when they chose Cole Library for an estate gift.
"Cornell was important to us. It's where we met, and libraries are a huge part of Val's life," explains Dave. "We're lucky to have the opportunity to name Cornell in our estate planning, knowing it's someplace we can have an impact. This gift will allow future generations of students to advance their education."
Val, whose career is in the library sciences, is especially pleased that the gift is going to a public-private library like Cole.
"Whether it's kids going to the library and seeing the opportunities ahead of them, or older people, there are opportunities for everyone who comes in its doors," she says.
Dave and Val are both first generation students to graduate from college and both say they benefited greatly from the experience. One of the Cole librarians encouraged Val to consider library work and eventually she did, earning her education degree and then her masters of library and information studies. She worked at a high school library in Monona, Wisconsin, for 17 years in a job she loved and for which she received national recognition. Val, who majored in history, is now a consultant with certification in conflict mediation.
Dave still uses his Cornell chemistry degree and his philosophy degree is never far from his mind. He started in a forensics toxicology lab where he once had a defense attorney ask him to explain the scientific theory of chromatography. Dave was pleased to be able to draw on what he learned in Cornell chemistry courses to be confident in addressing the topic. He's since directed labs and managed products for scientific instrument companies, earned an MBA, and worked for a company that helped Moderna get out their COVID-19 vaccine.
One of Dave's fondest memories at Cornell was an unsanctioned sport—frisbee golf—in West Science Center with Professor Truman Jordan. Their rule was to put a foot where the frisbee landed to throw the next turn, even if it landed on a hood, as Jordan's frisbee once did, or a classroom, as Dave's once did. That was in the late Professor Paul Christiansen's class and he came out to have a word with Dave—but when he saw Professor Jordan come around the corner, he just shook his head and went back to his classroom.
Dave will never forget his mentor's parting words: "On graduation day Truman said, you weren't my best student ever but you always managed to land on your feet and you will do well."
He was right. And now Dave and Val's success will lead to further success for students like them.